FIRST AND FOREMOST I APPRECIATE GREG TAYLOR AND THE STAFF AT THE DAILY GRAIL
FOR COVERING MY REPORTS WHILE I WAS IN BOSNIA.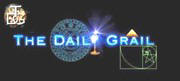 From Colette Dowell in Bosnia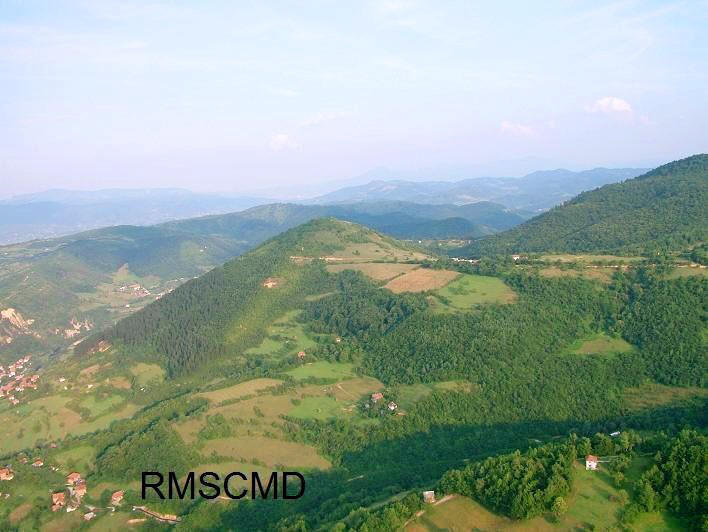 Overview of Visocica Hill from the air.
Robert Schoch in Sarajevo.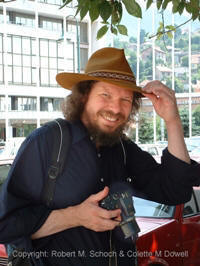 Submitted by Colette M. Dowell on Tue, 01/08/2006 - 9:39pm.
For THE DAILY GRAIL NEWS
Hello everybody! We finally have an internet connection. Sorry to have been so late with this letter, but we have been very busy.
Right now we are composing a longer letter to tell you what we have been up to. This letter is just to check in, and give you a hint of what we've been seeing and doing. It's also to see if this is going to work using a Bosnian keyboard. We are going to try to send some pics for Greg to post at TDG, but we're still having a few problems with software, and with driver recognition on usb ports and such.
NOTE: PLEASE CLICK ON THUMBNAILS TO ENLARGE THEM.
Bosnia is beautiful. Every day has been spent getting up and having breakfast very fast, drinking Turkish coffee, and running out the door with our back packs and gear.

Overview of rock layers at Pljesevica ("Moon").
Graffiti in tunnel with lots of garbage and new inscriptions on stones.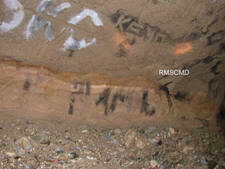 We have seen the Pyramid of the Moon, Pyramid of the Sun and other related sites. The tunnels are very complex and were much different than we expected. They are artificial and have been worked with hands. Recently there have been some timbers set to secure the walls. At points we had to crawl on our bellies like little fat snakes slithering through dark long tubes with wet walls and no light. I had a headband on with a light so I could see while I videoed.

Colette Dowell in the tunnel with geologist Nadija Nukic.
[The tunnel was very small inside with continuing stretches of long lengths of ceiling being less then 3 feet high.
Much of the tunnel's walls and ceiling were excavated through alluvium and are very unstable. There have been cave-ins already and the ceilings and walls are collapsing; that is why the timbers were set into place in one section. If you touch the ceiling or walls, they crumble. We could not understand how this tunnel could reach as far as, "All of the way to Visocico Hill (Sun Pyramid) and pass under and through it, continue on and pass under the Fojnica River, and then continue on to Plijesevica Hill ( Moon Pyramid) and infiltrate it with various connecting tunnels with out collapsing.............," especially if this tunnel is be thousands and thousands of years old; IT COULD NEVER HAPPEN. This particular tunnel is not from the world's most ancient, largest, greatest civilization that built colossal pyramids. Think about it -- if the builders were able to construct such huge structures such as pyramids and mold more magnanimous and stronger cement blocks then we have in today's modern civilizations, don't you think they would have at least engineered superior tunnels and not just dug outs? Wouldn't they have framed out the tunnels with molded blocks and created headers and beams for support and sheathed the walls and ceilings with some form of hi-tech master plaster? CMD]
Inside the tunnel.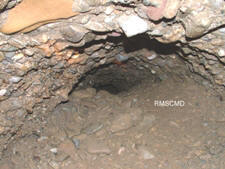 Videoing in the tunnels was the hardest thing to do due to over 300 meters of crawling, then sometimes standing up and walking for a few feet before being back down on our knees, belly or butt. I scooted a lot. Robert, being as tall as he is, had a difficult time getting around as well. But it was all very worth the experience.
Today we went up to the very top of the Pyramid of the Sun, climbing an extra 200 meters to the top to see the medieval hill fort. There was no damage whatsoever done to that site because there is not much of a site there -- just a few rocks left of a very tiny fortress wall.
Remains of the old fort on top of Visocica Hill.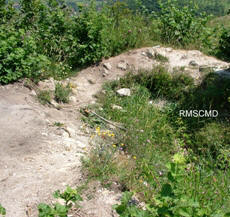 We saw many unusual features of the alleged pyramids. Each evening during supper we go through our notes and discuss the different scenarios that may be applicable to the overall valley and hills. There was a fire pit found, ceramics, a 'shrine' (as we call it), and many other things that were very weird.
Right now we have not had time to actually measure and site, as we are being escorted around from one site to another. In the next few days we should have time to start measuring more, and taking more samples. Then we'll know more about the layouts, and what the valley and the hills have to offer.

Viewing blocks at Visocica ("Sun") the first day, just after our arrival
(Semir [Sam] Osmanagic on the left and Colette Dowell on the right).
Excavated fossil layer of water current rippled bedrock following angle of strata. Semir claims this layer to be "Man Made" tiles.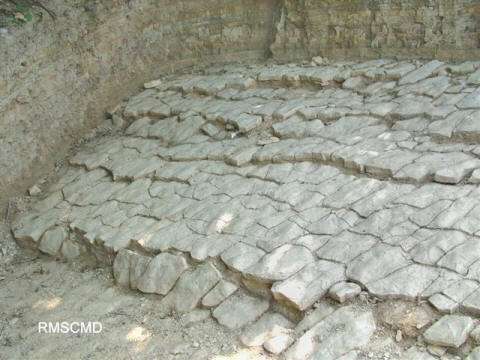 There is so much geological information available that it is almost overwhelming, but, well, we are not going to make any premature statement. We have some working hypotheses, but we feel we are not educated enough yet to make any hard claims. We are waiting to receive some reports from other scientists who have been on site, and we plan to compare them with our notes and reports.
All we can say is, it is awesome and beautiful over here. We are very fortunate to have this experience, and I am so glad that I was able to follow through with what I had to do to get us here. It was a long shot, but well worth it. And now, here we are! We are having a very good time, working very hard, and seeing some very strange things.
Wonderful elderly lady waving hello to us in Sarajevo.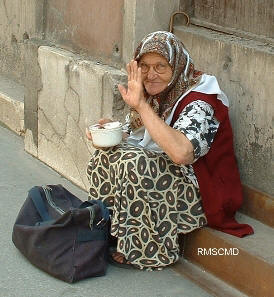 We have not met any rude people - no street bums, druggies, maniacs, nothing and no one bad. We are meeting just loving, peaceful and smiling individuals. There is now a sense of pride in this Bosnia Country that had been missing since their last war (which at this point I will not get into in this letter). We have learned much though.
We are safe, and so far have not been blown up or shot. The pyramids do sit in a danger zone though - there are land mines in some places, so we are being very careful. Sammie, Mario, and everyone has been extremely nice to us.
Robert found some bones on the top of the pyramid of the Sun, but we are not sure yet what they are. A fire pit, some ceramics and other anomalous artifacts have been found and are being sent out for analysis. Robert is working on the graphics right now, and we are composing a more proper letter. And, as I said, we will try to send pics for Greg to post.
Robert says hello to everyone. I am saying hello to everyone too - and also goodnight, since there is so much work to do we are not getting much sleep. The days are long and hot.

Robert Schoch getting ready to fly over Visocica Hill.
I will sign off for both of us, since I am typing this while Robert is working on something else.
Here is an interesting link about the alleged pyramids: ( If it is still up at time of posting this update report.)
Welcome to the official website of the Archaeological Park: Bosnian Pyramid of the Sun Foundation.
[We did not know our photographs were being taken so much. Here is a gallery of photos on the Bosnian Pages of the Foundation 's website. To view the many photos posted on us upon our arrival and on a few of the location sites. CMD]
PLEASE CLICK HERE.
Please look to upper left on the menu bar and CLICK ON Aktuelnosti. Then scroll down to 28.07.06 with title:
Dr. Robert Schoch i dr. Collete Dowel stigli u Visoko - 28.07.2006.
THEN PLEASE CLICK ON : 29.07.06 with title:
DR. ROBERT SCHOCH I DR. COLETT M.DOWELL OBIŠLI PIRAMIDU MJESECA - 29.07.2006.
You can click another link there, and it will take you to the daily news, where you will see Schoch and Dowell. Scroll down on the news, and there must be a hundred pictures of us and what we are doing at the site. You can see photos of us there until we can figure out how to send pics for Greg to post at TDG. We were shocked to see all these pics of us. Since some of the site is in Bosnian, we do not know what the article says -- we are just hoping someone did not write anything we did not state. There is a translator here though who will help us out by reading the news for us.
OK, good bye, and we will try to finish writing, and post, that letter we are working on.

Robert Schoch and Colette Dowell with a Medieval Monument outside the Sarajevo Museum.
Best to every one,
Colette and Robert in Bosnia
Hello Kat , will you please correct any mistakes. This keyboard's letters are all in different places, and is very difficult to write on. Please correct any typos since I have been working on this for over an hour now, and I'm too pooped to do it myself. Thank You Kat....XC
Note from Kat: My pleasure, Colette! I had already done 99% of the corrections before I found your request at the end. haha Told you it would be hot there! I'm counting on you to remember my ice-in-a-towel method for keeping cool.
END
CONTINUE THE LINKS HERE TO FOLLOW THE REPORTS IN CHRONOLOGICAL ORDER.
THIS PAGE IS #1. FROM COLETTE DOWELL IN BOSNIA
Go to #1 FROM COLETTE DOWELL IN BOSNIA
Go to #2 "BOSNIAN PYRAMID" DOUBTS
Go to #3 BACK FROM BOSNIA
Go to #4 EXPLAINING REPORTS FROM BOSNIA
Go to #5 CAMPAIGN STRATEGIES OF SEMIR OSMANAGIC
Go to #6 TIDBITS AND CHAT
Go to #7 GEOLOGY REPORT ON ALLEGED BOSNIAN PYRAMIDS
<![if !vml]>

<![endif]>

An International Networking Educational Institute
Intellectual, Scientific and Philosophical Studies
Copyright © 1995, 2005, 2006, 2007
Dr. Colette M. Dowell, N.D.
Angela Praxter - Professional Assistant
Website Design for the previous Official Website of Dr. Robert M. Schoch and Circular Times
and all contents including but not limited to text layout, graphics, any and all images,
including videos are Copyright © of Dr. Colette M. Dowell, 1995-2007